Sooo, I went for the Global Citizen Festival. You know, the thing that is being called the Coldplay concert (and for good reason too. Coldplay is basically heaven's little Angels performing on Earth). I have been wanting to go since Google's Twitter account posted this in August:
Everyone was suddenly the biggest fan of the band and I knew getting tickets was going to be an issue. The good tickets (cheap ones of course. Imma no pay 20k for anything) sold-out in seconds. Months passed, and after a "my friend's friend has a ticket if you pay 7.5k" deal failed a week left to the event, I sort of started being sad. Hope not lost; but sad.
But then the nigh before the event, about 24 hours before Coldplay performed, I got myself a complimentary pass (good hearted people do exist amongst us). It was a whole universe-conspiring-with-me-to-make-it happen sort of situation 💖
I have come back home from the Festival and I have no photos of the event. I would like to tell the world that I made that decision so I could enjoy the show through my own eyes and not through my mobile screen but it was actually mostly because I wanted to save charge on my phone (portable chargers weren't allowed inside). Phone or no phone, I noticed some real good stuff while I was there, so here goes:
Is it me or is Arijit Singh like really cute?
It is not the first time I noticed this, but it sure is the first time I say this out loud. I might have a tiny crush there. He looked soo bloody cute with his curly hair and glasses. The good music adds to the cuteness too.😬
Shah Rukh Khan comes on stage to introduce Rahman and he says that anyone who can sing the Malayalam bit in "Jiya Jale" gets to dance with Rahman on stage. I could've made history up there on stage had SRK heard me screaming out the Malayalam lyrics. Problems of not having a Gold/Higher Zone pass, I tell you:'(
Rahman Rocks (Obviously!); BUT his bassist is a QUEEN!
Firstly, Rahman's bassist looks like a badass. Then her performance proves she is a real badass. Her hair is literal #Goals. There was a point when Rahman smiled at her and there was soo much pride there. Imagine being soo talented that you invoke pride in Rahman!
Remember that crush I had on Arijit Singh? Yeah, that totally changed and I now have started crushing on her. Such a rockstar ❤
The bassist is a rockstar and then Rahman sings effing "Humma Humma" in effing Tamil at Global Citizen Festival. The hindi-speakers looked confused AF but everyone jumped into jam with him the minute the chorus came up. I made up the entire Tamil lyrics to show off my "skills", but who cares!
Farhan Akhtar called Amitabh Bachchan to perform with him and while the performance was amazing, I couldn't help but wonder where I could buy his poncho-kurta thingy from. It was white and comfy and very very stud looking.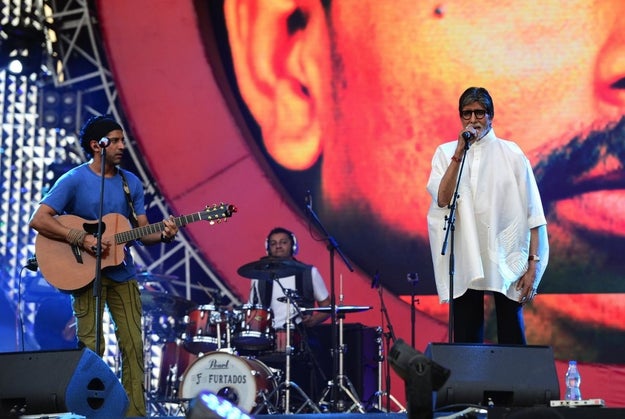 Whenever people crowd around, there's always a truck load of BS around and I specialize in overhearing them. So Vivek Oberoi and Nelson Mandela's grandson comes on stage for their talk and this girl next to me legit thinks that he is Jay Z. Her friends try to correct her but she wouldn't listen to them. Finally, after a 15 minute debate, everyone gave up on her and she was convinced that she was right and all her friends were wrong. Mr. Mandela even said something about his grandfather but the debators missed it. I have no idea how I kept a straight face through the whole thing. I tried looking for her when JayZ finally came up on stage but couldn't find her.
Needless to say, the actual Jay Z was nothing like Mr. Mandela. The dude is sooo cool, you instantly feel 10x cooler from just watching him perform. I don't know much of his music to be honest, but the dude rapped to Chayya Chayya and Mundian To Bach Ke and I was dancing to him like a maniac. Seriously, he made the crowd go CRRRRAZYY.
So Modi couldn't make it to the event so he video conferenced with the 80,000 of us. He wasn't bad either. He really tried to get on to the young crowd's wavelength. Cute he was, quoting Bob Dylan and making that little joke about de-monetisation. I just wanted to go give him a hug after the VC<3
So now after Modi VC'd, everyone expected Coldplay to jump on to the stage and start Paradise or something, but none of that happened. Instead, these two very random girls (who were very hot, so the complaints were minimal) came up on stage and started turning some knobs on their DJ-board-thingy. They were pretty boring if you ask me but mostly so because everyone wanted Coldplay to come on stage. They didn't really get a fair chance but whoever thought it was a good idea to let them open for Coldplay was clearly delusional.
Finally, COLDPLAY happened.🌞👑
I had been waiting for this moment since August and when it finally happened and I heard Chris Martin's voice flood the grounds, I started laughing out loud. It felt surreal; it felt heavenly. I cannot explain the emotions or the feeling, but every Coldplay fan present there would know what I mean when I say that nothing felt more right than being there at that moment. They played all the crowd favorites, they played some of the old songs for the die-hard fans and they put everything into the performance. Tears were involved, but my heart was super happy and grateful to have experienced them – their first ever concert in India.
Also, Rahman came on stage and Chris and he sang Maa Tujhe Salaam together. Goosebumps on goosebumps happened. Also, can we take a moment to appreciate how Chris totally learned the lyrics while Rahman was performing on stage and decided to wing it? And how he randomly sang Channa Mereya (Must have heard Arijit rehearsing it or something). Such a beautiful soul he has ❤
All in all, the Festival was AMAZING. There was soo much talent, passion and positivity around. People were standing in huge crowds under the blazing sun, sweating and dehydrated (because the lines for water, which the organisers made free (Thank you!), were humongous) but still dancing and singing and cheering for the performers on stage.
Oh, and people who pushed through the rest of us to get to the front without even saying "excuse me", yeah, you're all going to hell.
But you know who aren't going to hell? The nice people who actually did/do good work for the Global Citizen Initiative. I do believe that we are the generation which can end poverty and if you are interested or care, even a tiny bit, about things other than yourself, then please check this out.
Standing in a long line to get some drinking water or go to the loo was bloody hard, even though I had to do it just the one time. Imagine those people who cannot just open a tap and get fresh water or have the luxury of private washrooms. It sucks.
Coldplay really was the highlight of this mega event, but it is not just about them or the many other performances. All said and done, this is a much bigger cause so please check the site out, do what you can and pledge to be global citizens 🙏
Oh, and btw, after the Festival I tottally got lost and this random stranger (sent by my relatives whom my dad called in a final attempt to save me) had to come pick me up and drop me home. I forgot the stranger's name but he has my blessings. I won't lie, I freaked the heck out when I couldn't find transportation home.
But all that was TOTS worth it so imma end this post now.
love,
me:)
Photo Courtesy – https://www.buzzfeed.com/andreborges/the-most-magical-and-wtf-things-that-happened-at-coldplay?utm_term=.acNEEokkgx#.qpJDDGbb6O , https://twitter.com/GoogleIndia , https://www.globalcitizen.in/en/,